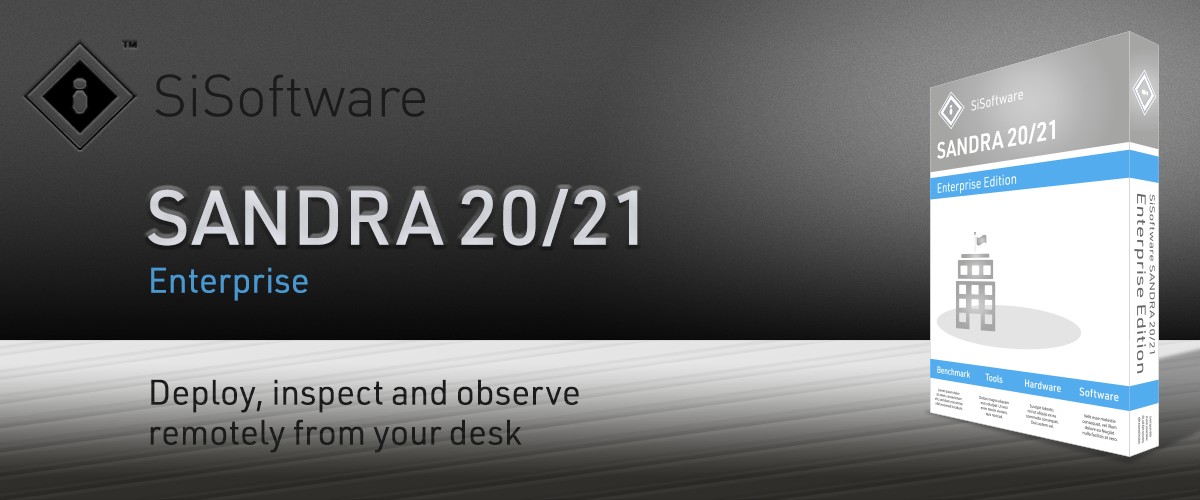 SANDRA 20/21  Enterprise Edition
Computer analysis, diagnostics and benchmarking for business users

Easy "de facto" standard benchmarks for measuring performance.
Improve understanding of what is inside your computer.
Compare your system with reference systems and results.
Check software configuration, settings and much more.
Domain PC support.
Includes Tech Support Plus USB.
Have you ever wanted a single solution that lets you remotely diagnose and inspect any machine on the network? Ever need to know what hardware is in the machine three floors down or in another building? In a 'time is money' world, having the information at your finger tips is critical to efficiency in your enterprise. Now you can remotely inspect machines from the comfort of your desk.
SANDRA 20/20 is a true client-server software solution that allows a single user (or collection of power users) to be able to remotely run diagnostics on machines on your network and return the results to your console.
Supporting multiple operating system platforms (including Windows 11/10/8.1, and Server 2019/2016/2012) and architectures (32 and 64bit), and full implementation of the Windows Domain security model, you couldn't be in better hands. SANDRA Enterprise 20/21 is also happy running over a VPN or the internet. Also offers full support for Virtualisation.
1
1
2
5
 BONUS FREE
Tech Support Edition (USB not included)
1
2
5
10
 Remote Clients
50
100
200
500
 Price:

$2495*

$3395*

$4895*

$7600*

For other volumes, please contact us.
All products are fulfilled electronically.
*If you are in the UK or EU VAT will be added at your local rate at checkout